Lets admit that we could all use some pigeon control tips. They are pesky, annoying and seem to be everywhere !
Terminate Pest control have over 20 years' experience in the industry, and have dealt with thousands of pigeons in that time. We can offer advice and solutions for your problems, so that those peeving birds don't return to your business or home.
Contact us today or visit our website. Don't wait for pigeons to infest your property and cause more problems !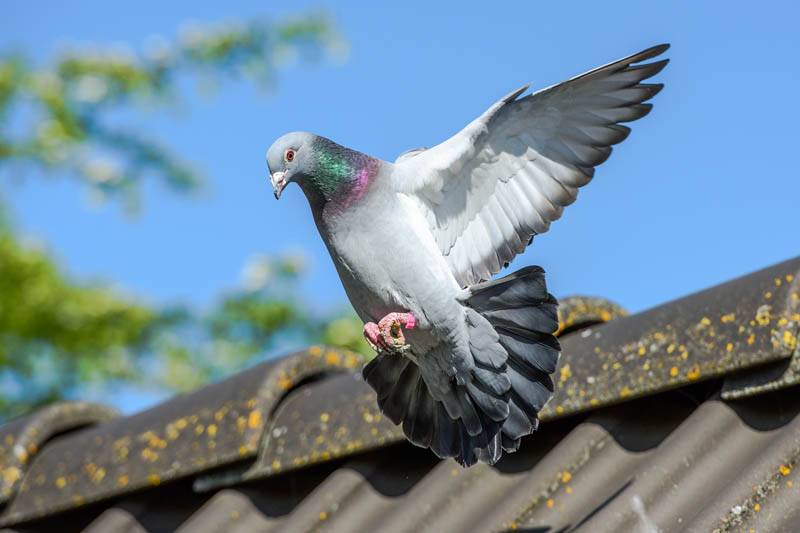 How To Get Rid of Pigeons
There is no singular method on how to get rid of pigeons. If these birds find a comfortable spot and a source of food, they will return. Therefore, we use a variety of tactics to make sure that the food source is removed, and that they fly clear of your property.
Terminate Pest Control practice safe proofing methods so no harm comes to the pigeons. We also want to make sure they don't return, so we made our repellent tactics thorough:
One method is the use of wire mesh. Wire mesh stops birds perching on your property whilst doing no damage to the exterior. This is common for hotel/businesses – as it proofs multiple areas including the underside of canopies.
Similar to this, is the use of bird netting. Again this prevents pigeons from landing atop a building/property, as they cannot return to that spot and therefore lose interest.
Another failsafe tactic is bird spikes. This is one of our most effective tactics, as it stops the nesting, feeding and resting process for pigeons.
All of our methods are great pigeon control tips, but can be costly if you are needing a large amount of spikes or wire mesh and so on. So we also have methods and advice for home pigeon repellent…
What Keeps Pigeons Away From Houses ?
We've spoken about adding spikes and wire mesh, but what keeps pigeons away from houses?
At Terminate Pest Control, we still use proofing tactics for homes – but without the construction of spikes and wiring that will make your home stand out (and not in a good way!)
A proven pigeon control tip for homes is one we have discussed. Removing the food source is vital for keeping them away. As well as them lingering, droppings make them even more annoying ! So without a food source, there will be no droppings.
Anything from your waste bin, to excess food you've thrown away in the garden can be snatched up by the pests. Contact Terminate Pest Control for more advice and further pigeon control tips.
Pigeon Management At Home
We have discussed pigeon management at home, the advice and the proven methods. But we still suggest you contact us for any queries or help on home repellents.
Everybody likes taking matters into their own hand, but Terminate Pest Control are here to ensure that the birds don't damage your house. Nesting and pigeon droppings can be a health hazard as well as drive property value down, so let us handle infestations to ensure your home remains its best.
If you have further questions regarding pigeon control tips, contact Terminate Pest Control. We guarantee quality services that bring no harm to the animal or the property.
Contact us or visit our website. We will arrange regular check-ups on your property to ensure those pesky pigeons stay away!